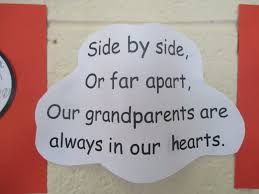 Thy Kingdom Come!
Dear Friends, in Christ,
     "But let me ask you: Do you listen to your grandparents? Do you open your hearts to the memories that your grandparents pass on? Grandparents are like the wisdom of the family, they are the wisdom of a people." Pope Francis
     I learned so much from my Grandmother about love, life and the Catholic Faith.  She attended daily Mass, she had a deep love for Jesus, and her words on Thanksgiving day of my Sophomore year at Michigan State still ring in my ears.  My older brother Tom had just announced that he was getting engaged, and granny leaned over and said, "Michael, you will never make that announcement.  You will be a priest!" Thanks Granny, for being so close and for being so holy!
God bless,
Fr. Michael Sliney, LC