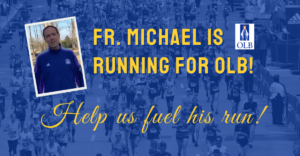 Please support Our Lady of Bethesda Retreat Center….I would be very grateful!
Priests don't just pray. Sometimes they also tackle the physical challenges of being an athlete. And, Fr. Michael Sliney, is one of those priests!
On Monday, April 18, Fr. Michael will compete in the 2022 Boston Marathon. Although he has competed in past marathons, this will be the first time he will face the challenge of Boston's famous race.
Why Does He Run?
Why does he push himself to train for such a grueling race? He tells us that training for a marathon reminds him of the struggles and obstacles we all face in life, and he sees it as "an opportunity to evangelize the world of running."
That is why he trains through the frigid, icy days of our DC winter and competes in one of the most difficult races in the country. With God's grace, he perseveres and offers up every sacrifice he endures in prayer, to increase vocations to the priesthood, religious and consecrate life, and also to bless the work of Our Lady of Bethesda and those we serve through our retreats and marriage programs. Please use the link below:
https://ourladyofbethesda.org/donate-marathon-run-fms