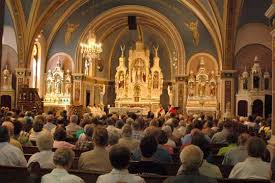 Thy Kingdom Come!
Dear Friends, in Christ,
     "If conversion to Christianity makes no improvement in a man's outward actions–if he continues to be just as snobbish or spiteful or envious or ambitious as he was before–then I think we must suspect that his 'conversion' was largely imaginary." CS Lewis
    One of the difficulties that I have had with Protestants considering conversion is that they have told me, "Fr. Michael, I have a lot of Catholic friends who attend Church and even go to Bible studies, but some of them are not exactly models of Christian living…"  We all need to walk the walk to take this excuse away!
God bless,
Fr. Michael Sliney, LC