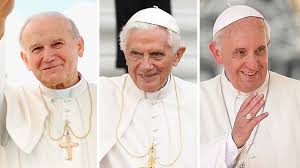 Thy Kingdom Come!
Dear Friends, in Christ,
     "Physical condition or advancing of age are not obstacles to a perfect life. God does not look at external things but at the soul." St. John Paul II
    Our last 3 Popes have given us a tremendous example of a whole hearted commitment to serving Christ and others, deep into their "advancing ages."  It is never too late, and you are never too old to love God and others!
God bless,
Fr. Michael Sliney, LC